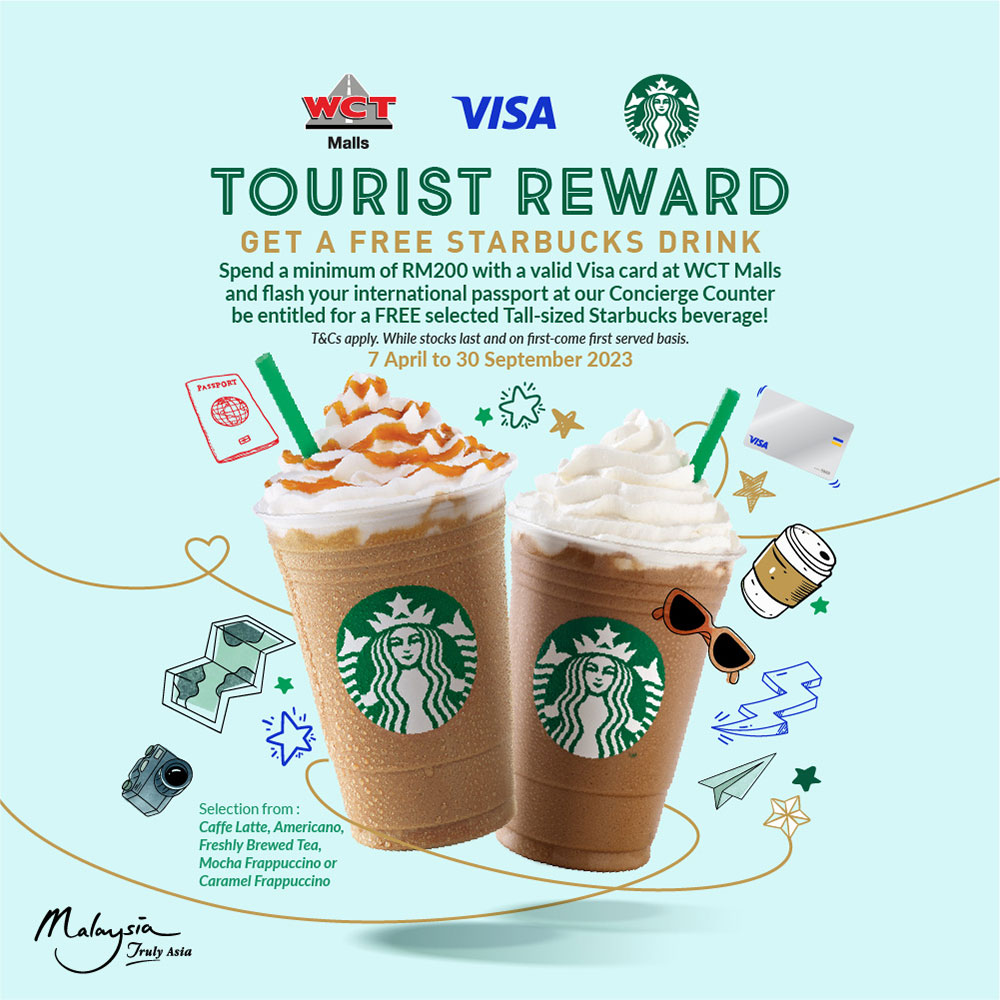 7 Apr - 30 Sept
Paradigm JB
Terms & Conditions
Redemption must be made at the mall's Concierge Counter during mall operation hours during the Promotion Period only.
You are required to present your valid passport and two (2) same day receipts as day of redemption, with a cumulative minimum spend of RM200 at gateway@klia2 or RM300 at Paradigm Mall Petaling Jaya or RM500 at Paradigm Mall Johor Bahru at the Concierge Counter at the respective malls to be eligible to redeem the product, which is a free Starbucks Handcrafted Beverage.
For purpose of this redemption, the Concierge Counter of each mall will only consider and accept same day receipts from purchases made at the retail outlets of the same mall.
The receipt(s) used for redemption must be a sales transaction made using a VISA credit or debit card.
A physical voucher for the product will be issued to you if you satisfy the redemption requirements.
Receipts from supermarket, bill payments, prepaid reloads, currency exchange and temporary promotion booths are not accepted for purpose of this redemption.
Each person is only allowed to redeem one (1) product per day, and up to a maximum of three (3) products only throughout the Promotion Period.
You must only use the voucher at the Starbucks outlet in the mall which you have redeemed the voucher. You must present the voucher at the relevant mall's Starbucks outlet located at gateway@klia2, Level 3 (Lot-35) or Paradigm Mall Petaling Jaya, Level G (Lot-73A) or Paradigm Mall Johor Bahru, Level G (Lot-36) to redeem the free Starbucks Handcrafted Beverage.
Only vouchers which are untampered and valid will be accepted by Starbucks, subject to such other terms and conditions as stated in the voucher and/or as may be stipulated by Starbucks.
The free Starbucks Handcrafted Beverage shall be any one (1) of the following Starbucks beverages:
Tall-Sized Caffe Latte
Tall-Sized Americano
Tall-Sized Freshly Brewed Tea
Tall-Sized Mocha Frappuccino
Tall-Sized Caramel Frappuccino
This redemption is available while stocks last, on a first come first served basis.
The voucher is strictly not exchangeable in whole or in part for cash or other goods and merchandise sold by Starbucks.
We reserve the right to replace the product with other items of similar value.
We reserve the right to amend these terms and conditions without prior notice.