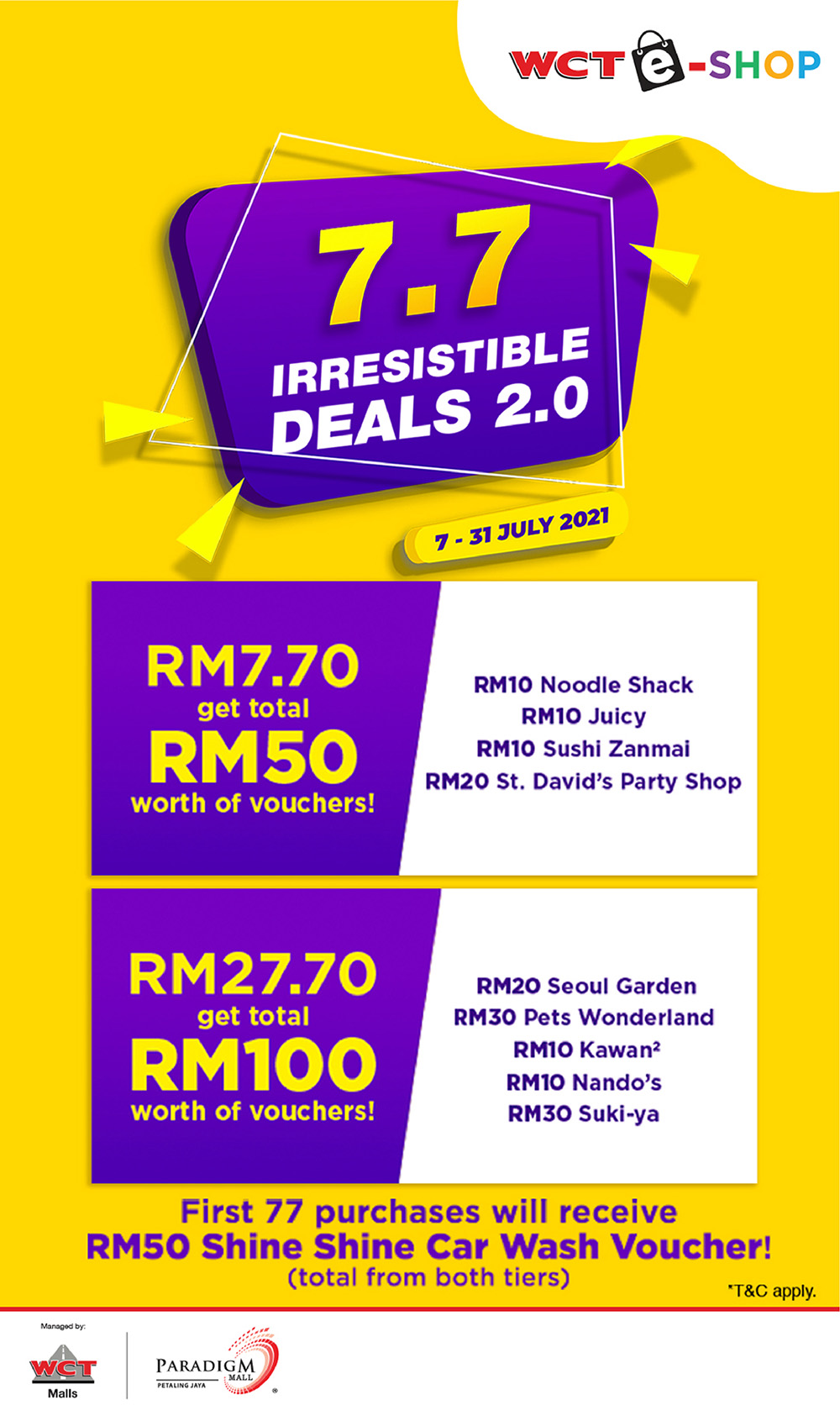 7 Jul - 31 Jul
Paradigm PJ
Important note
Cash vouchers purchased on Paradigm Mall PJ - 7.7 Irresistible Deals strictly cannot be put up for sale and/or sold to any third party on any platform (for e.g. Lazada, Shopee and etc.). In the event of such occurrence, we shall investigate the same and reserve absolute right to require you to remove the cash vouchers from such platform(s) without having to account for any liability whatsoever which you may incur or suffer, without prejudice to all our other rights and remedies.
Terms & Conditions*: -
1. No refund of payment once the purchaser redeems the physical cash voucher. 2. A Confirmation Email will be sent within 3 working days from date of purchase as a confirmation of your purchase after we have successfully verified the payment. 3. Collection at Concierge, Level G (10am – 8pm) between 12 July 2021-15 August 2021. (*Timing subject to change due to MCO) 4. Physical cash vouchers can be utilized in the respective outlets only at Paradigm Mall PJ and are not exchangeable for cash or any other products. 5. Collection to be made at Concierge Counter, Level G (10am – 8pm) between 12 July 2021 to 15 August 2021. Vouchers uncollected after that period will be considered as void and strictly no refunds will be entertained. The collection period may be subject to changes depending on the MCO / lockdown situation / SOPs. 6. Jelas Puri Sdn Bhd (Paradigm Mall PJ) reserves the rights to amend the terms and conditions without prior notice. 7. A purchase limit of maximum 3 sets of vouchers pack per person and only applicable for the same order by selecting the "Add On" function. Any REFUND(s) will be in the form of WCT E-Shop Voucher and will be credited directly into the buyer's account if he/she has over purchased the Vouchers Pack according to the set limit of 3 sets per person.