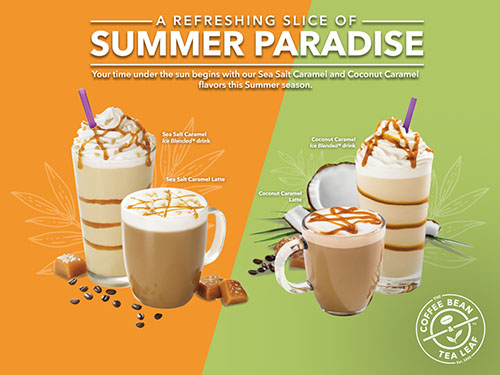 10.5.2018 - 4.7.2018
Lot 11, Level CC
A REFRESHING SLICE OF SUMMER PARADISE
Your time under the sun begins with our Sea Salt Caramel and Coconut Caramel flavors this Summer season.
Sea Salt Caramel Beverages - Try our new Sea Salt Caramel series. Yummy caramel and rich espresso are blended with a hint of salt and topped with salted caramel sprinkles and caramel drizzle for a complex, balance finish.
Coconut Caramel Beverages - Indulge in our new Coconut Caramel series. A blend of refreshing coconut and creamy caramel, infused with our fresh espresso, and topped with a drizzle of caramel, creating a new twist on two popular flavors.