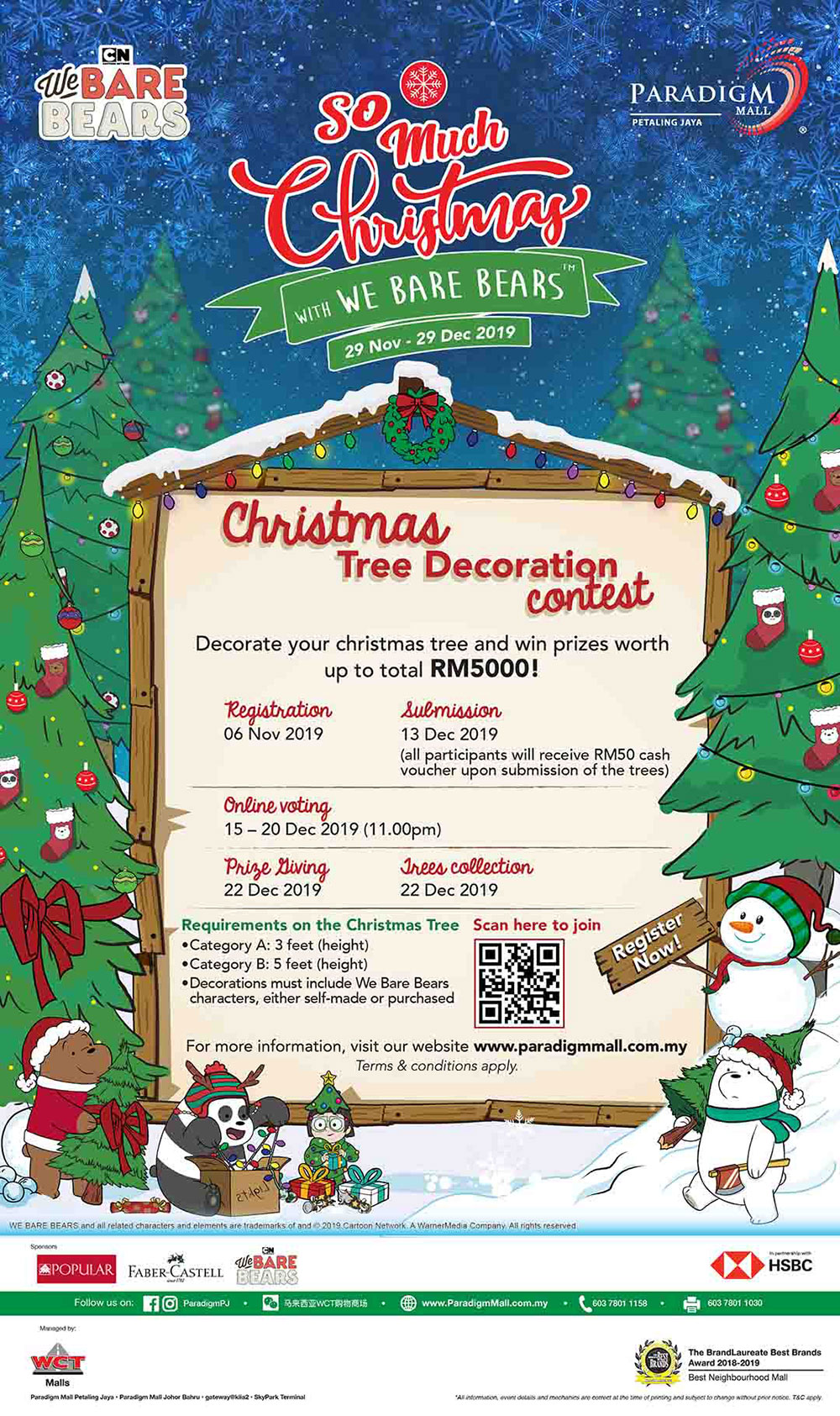 29 Nov - 29 Dec
Common Walkway, Level CC
Are you ready for the holiday season because we sure do! Let's celebrate it with Grizzly, Ice Bear and Panda by joining our We Bare Bears Christmas Tree Decoration contest!
Register now and put your Christmas tree decorating skills to the test for a chance to win prizes worth up to RM5000*! What's more, every entry gets RM50 voucher upon submission!*
Start decorating now because we can't wait to see your amazing trees along with our favourite bears 😉 #mychristmastree
Submit details here: shorturl.at/sxQ03
Eligibility: Open to all. Individual or group allowed.
Two categories:
A: 3ft
B: 5ft
Decorations must include We Bare Bears Characters, either self-made of purchased.
Submission date: 29 November 2019
Terms & Conditions Apply:
* Open to all. Individual or group allowed.
* Registration 6 - 29 November 2019
* Winner announcement 22 December 2019
* Pre-registration required via this google form
* By participating in this event, participant(s) are agreeable to the terms & conditions set by The Management.
* I, take full responsibility with respect to the contest participation process and confirm that the information provided is true and accurate.
* I, intended to be legally bound, hereby, waive, release, and forever discharge any and all rights and claims for damages which may hereafter accrue to me against Paradigm Mall PJ, all event sponsors and staff, and all liability or responsibility arising from any injury received or incurred participating in this event.
* By participating in this event, participant(s) agreed to allow Jelas Puri Sdn. Bhd. and its agencies to use participant's name and / or photographs for the purposes of publicity and advertising without further notice or compensation.
* The Management reserves the right to change or amend the above terms & conditions without prior notice.
* Jelas Puri Sdn. Bhd. Shall be the sole authority for all the interpretation of these rules & regulations.
* Other terms and conditions apply.